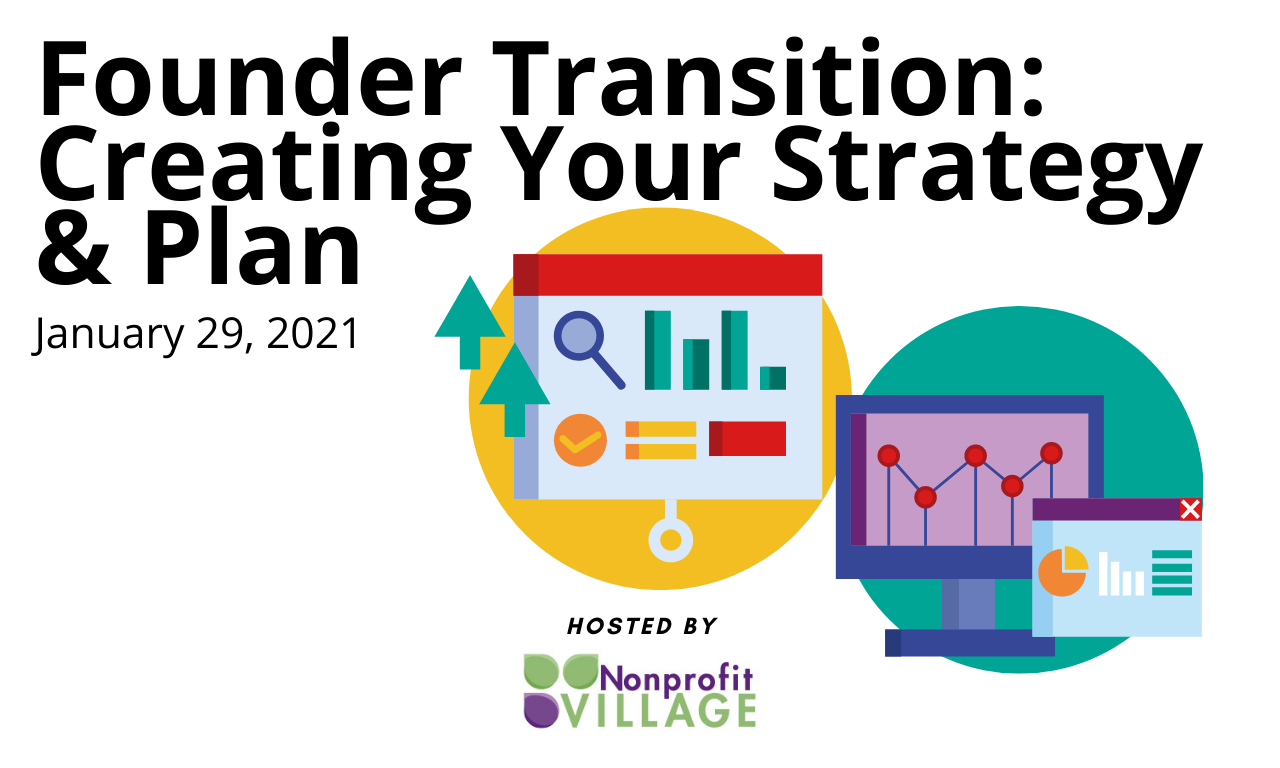 Founder Transition: Creating Your Strategy & Plan
January 29 @ 10:00 am

-

1:00 pm
Workshop Overview
Founder and long-term executive (LTE) transitions can feel daunting to the founder/LTE, board, staff, participants, and other stakeholders. The successor who fills the departing leader's shoes will bring a fresh perspective to the organization and will, more likely than not, face challenges. However, these transitions are also filled with opportunities and new possibilities. A well thought-through transition strategy—tailored to the specific needs of the organization—that acknowledges emotional issues, identifies strategies to support the process, and holds everyone accountable—can build resilience and position the organization for long-term success.
Participants in this 3-hour, interactive workshop will explore the following:
Opportunities and challenges that may arise during all phases of the transition.
How to support the founder/LTE to either transition completely out of the organization or continue in a newly-defined, circumscribed role.
Transition framework that explores tasks, analyses, and decisions that help prepare and implement the transition and support the successor once onboarded.
How to develop indicators that measure transition progress and success.
Expenses associated with these transitions.
Who Should Attend?
Founders and long-term executives who are leaving or contemplating leaving their organization within the next 5 years:  This workshop will help you: assess readiness to leave and how best to leave or move to a new, well-defined role; identify potential challenges and issues that will arise and strategies for you to address them; and, explore next steps that can be taken to help strengthen organizational infrastructure prior to onboarding the successor.
Board officers and members will gain knowledge about how to: develop a transition strategy that supports the founder and empowers the successor; assess impact of transition on revenue generation; how to partner with the founder/LTE to take necessary steps to strengthen organization's infrastructure, and, identify board training and development to support strong governance and oversight.
Successors will gain information about how to assess the plan currently in place and strategies to help ensure that the transition stays on track or, if necessary, revise the plan.
Funders will learn about strategies that can be used to support their grantees.
Open to all.
Cohosted by:
Bob Wittig
For over 30 years, Bob has brought his passion and commitment to support nonprofit missions.  He has worked to build community and a collaborative spirit among organizations, leaders, and board members. He has been on both sides of the aisle, managing direct-service nonprofit organizations and a foundation.
Bob served as executive director at the Catalogue for Philanthropy, Jovid Foundation, and Academy of Hope. He was director of development at Joseph's House and direct marketing manager at Special Olympics International. Bob was selected to be part of the first group of Peace Corps Volunteers to Ukraine.
Bob's nonprofit experience includes grant making, program development and implementation, budget development, fundraising, strategic thinking, and board training and development.  He helped found Mundo Verde Public Charter School and the Skyland Workforce Center.
Bob has written articles for Charity Channel and was a contributing author to YOU and Your Nonprofit Board:  Advice and Practical Tips from the Field's Top Practitioners, Researchers, and Provocateurs.  In 2015 he co-authored Nonprofit Board Service for the GENIUS with Susan Schaefer.
Bob is currently a member of the Joseph's House board of directors and the Skyland Workforce Center Advisory Board. He is enrolled in the Georgetown Leadership Coaching Certification Program.
Bob enjoys storytelling, swimming, hosting dinner parties, and learning how to play the djembe.  He lives in DC with his teenaged daughter and Bruce the Wonder Dog.
Email: bobwittig@gmail.com