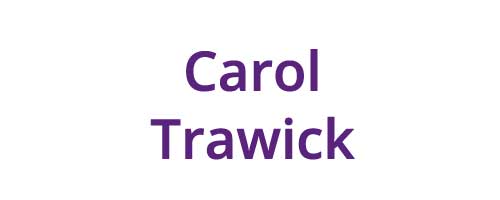 2017 Individual
Carol Trawick
In May 2017, the Nonprofit Village awarded Carol Trawick with a special recognition for her work in Montgomery County and beyond.
After selling their successful IT company Jim and Carol Trawick launched the Trawick Foundation in 2006 to assist local health and human service and arts nonprofits in Montgomery County. Ms. Trawick has served as Board Chair of many organizations, including the Maryland State Arts Council, the Strathmore Music Center and the Glen Echo Park Foundation, among others. Over the years, Ms. Trawick has repeatedly been recognized for her leadership and philanthropic work.
Through its diverse programming and funding, the Trawick Foundation promotes nonprofit collaboration focused on implementing innovative practices that address the changing needs of the county's most vulnerable populations. Carol Trawick leads the foundation, drawing on her years of experience and knowledge running a business, to implement best practices in the foundation work.
The Trawick Foundation's key programs take a holistic approach to education by "integrating learning with social services." The Trawick Foundation expects collaboration between nonprofits and schools to ensure that service delivery is most efficient. As Ms. Trawick emphasizes, communication and innovation are vital aspects of ensuring programmatic success. In order to meet and address the constantly evolving needs of the county population, Ms. Trawick understands the importance of observation and analysis in setting and evaluating programs.
These programs include:
Collaborative Grants
The TeamUp program elicits partnerships between nonprofits and Montgomery County schools to implement educational social services programs to promote better outcomes for youths. A current TeamUp collaboration between three nonprofits and the Gaithersburg Middle School has led to increased outcomes in Math and English scores for participants.
The Youth in Transition grants target youths between the ages of 16-24 as they transition out of foster care, juvenile justice systems and social services. This grant also supports youths with disabilities, as well as preventative measures targeting youths 14 and up.
The 2016 Youth in Transition program "Watkins Mill Youth Summit Project" was a bridging program at Watkins Mill High School for students from two feeder middle schools. It was the result of a collaboration between the Latin American Youth Organization (lead), YMCA Youth and Family Services, Identity, Rec Zone, a Montgomery County Department of Recreation program and the high school.
Supporting Nonprofits
The Capacity Cooperative Program bolsters the work of Montgomery County nonprofits by providing shared bookkeeping services and the Co-occupant Program funds small or emerging nonprofits that focus on arts or health and human services. By sharing services or operational space, nonprofits can run their day to day services with more efficiency, integrating financial and nonprofit management best practices.
Additionally, the Trawick Foundation promotes regional artists and their work through the Trawick Prize for Contemporary Art and the Bethesda Painting Awards. The Trawick Prize is an art competition and exhibition initiated in 2002, with first, second and third "Best in Show" winners receiving $10,000, $2,000 and $1,000 respectively. Artists over the age of 18 who live in Maryland, Washington D.C., or Virginia can submit their work for consideration.